Skip to Content
Benefits Of Overhead Garage Storage
Smart Racks' Garage Storage Solutions in Orlando, FL
Clutter is not fun. Garages are among the most disorganized spaces in the home. Vehicles, mowing & yard equipment, gardening tools, basketballs, soccer balls, and bikes all contribute to this problem. So, what to do with too many things and not enough space? Before you rent a storage space, consider Smart Racks' garage storage solutions. Central FL homes benefit from the simple, yet effective garage organizer systems the company provides. With Smart Racks' organizing systems, there can be a space for your athletic equipment, tools, knick-knacks, etc. Don't resign yourself to clutter and chaos. Take control of your garage now. Investing in a common-sense garage storage solution, like overhead racks, means there is less to move around when you need to locate something, and you will no longer be tripping over boxes you only use once a year.
Additional Benefits
Some of the additional benefits of overhead garage ceilings storage racks are:
1. More storage space equals less disarray:
With overhead storage, homeowners have the freedom to store valuable belongings up off the floor. Nearly all garages can use additional storage. Ceiling racks from Smart Racks will allow you to use the unutilized space up above to place all your bins and boxes neatly, as well as remove the clutter from the walking area in and out of the house.
2. Smart Racks are easy to access:
Smart Racks sells storage racks meant to withstand hefty loads. They provide racks made from 13-gauge steel, enabling them to hold up to 600 pounds. More importantly, they offer custom sizing, which allows you to pick a length, width, and height that works for the belongings you are storing.
3. They are less than a storage unit:
It can be tempting to contact a storage company to store unused belongings safely. However, why not invest in an affordable rack solution instead of paying to rent a space? This is a more economical and easier to access option. If you have bikes, ladders, golf bags, or other hanging items, a rack with hooks is a great method of storing them. You can hang these items and more and store the rest in bins on the racks up above.
4. Smart Racks also keeps valuables safe from flooding:
Central FL is prone to hurricanes and tropical storms. Residents understand how flooding can be a real issue. Enter overhead storage. Garage storage solutions protect valuable items from any floodwater entering the garage.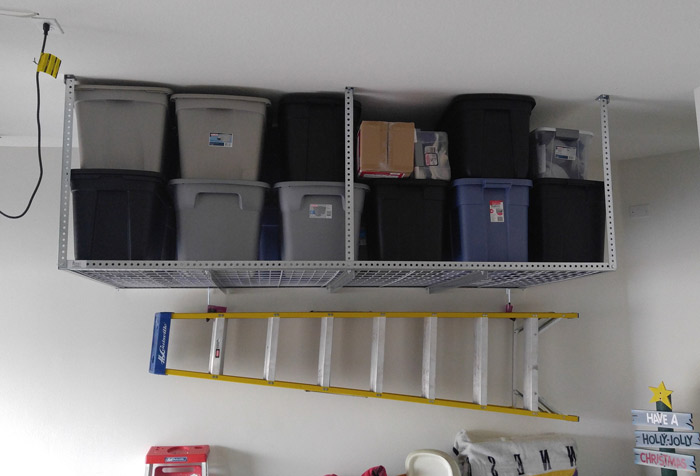 What Can You Store On Your Overhead Racks?
Smart Racks helps customers understand the value of a sensible garage storage solution. As each of us moves through life, we tend to collect things. What Smart Racks offers is a way to neatly and efficiently keep and store these items. To help you understand the possibilities of overhead storage, a garage storage specialist can demonstrate the utility of our racks. They can show you how you can utilize garage organizers to store items such as:
Storage bins and containers
Camping & sporting gear
Kettle balls, yoga mats, dumbbells, and other workout gear
Bikes and ladders
Weedwhackers and hedge trimmers
Patio furniture
And more
Contact Smart Racks for Efficient Garage Storage Solutions
The Smart Racks service area extends beyond Orlando, FL and into the surrounding communities, such as Melbourne, Titusville, Daytona Beach, as well as Lakeland, Davenport, and East Tampa. Central Floridians trust Smart Racks to provide superior customer service and made-to-last products. Smart Racks rewards their confidence with a lifetime warranty on installation and material.
Learn More & Get Started Today