Skip to Content
Garage Makeover
When it comes to home décor, most people don't think about the garage. However, renovating your garage can be a fun and rewarding design project that will help you to get and stay organized, add value
to your home, and maybe even make room for your car! If you are looking to invest in a complete makeover, here are some tips to help you transform your garage into a more organized and aesthetically pleasing area.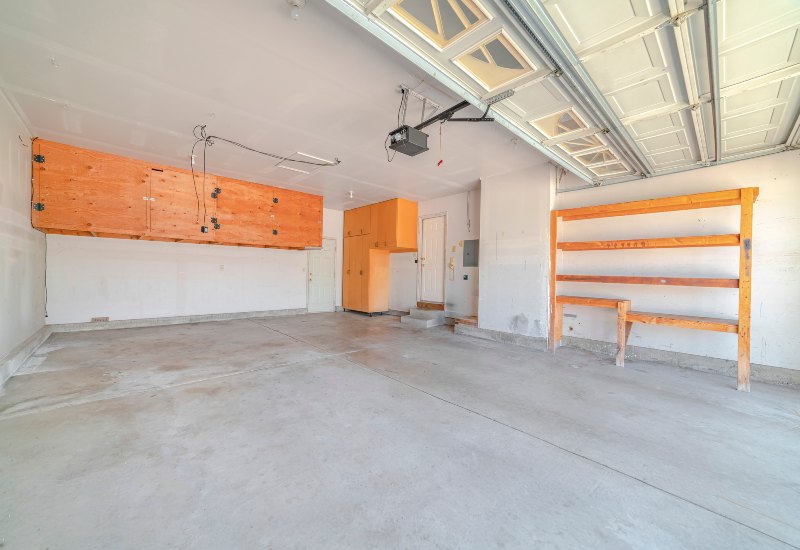 Renovating Tips
If you are looking for good and cost-effective renovation solutions, here are some valuable suggestions:
Declutter and organize – The first step is to get rid of anything in your garage that you no longer need or want. This frees up space and will help you to make your renovation more efficient.
Prioritize essential upgrades – Now that you've decluttered, focus on the most critical upgrades you want to complete.
Repurpose and reuse – Old kitchen cabinets can be installed in your garage at little or no out-of-pocket costs.
Thrift stores and garage sales – Look for bargains for affordable storage solutions, tools, or materials.
Smart storage solutions – Inexpensive items like pegboards for your tools, ceiling hooks for bicycle storage, or stackable bins are easy and inexpensive solutions to help organize the garage.
Paint – A fresh coat of paint is an inexpensive way to spruce up your garage. Choosing a light color will make your garage seem bigger.
Other Garage Makeover Ideas
If you want to do a more comprehensive makeover, here are some suggestions that can turn your garage into a comfortable, clean, and functional space.
Update your garage door – If your door isn't working properly, or if it's an old wooden door, you might think about replacing it with a more modern steel or aluminum door. Garage doors are available in a wide variety of styles and colors to complement the overall style of any home. If you don't have one already, add an automatic door opener.
Insulate and vent the space – If your garage is attached to the house, you need to make sure that it's properly insulated. This would include attic insulation as well as making sure that the weather stripping under the door is in good condition.
Consider air conditioning – A mini-split air conditioning system can be added to turn your garage into a more comfortable space for puttering around on your workbench any time of the year. With a climate-controlled garage, you can utilize the garage as an additional living area.
Updated the lighting – If your garage has a lone light bulb on the ceiling, it's a good idea to update the lighting. There is an endless array of lighting options available at your local home improvement store, including motion-sensitive lights, and a relatively small investment here can make a world of difference in the ambiance of your garage.
Overhead racks – In recent years, homeowners have found that overhead racks allow them to use the otherwise wasted space near the ceiling. These racks are ideal for storing items that aren't frequently used, such as sports equipment, holiday decorations, or seasonal clothing.
Add additional electrical outlets – If you don't already have outlets in your garage, have an electrician install two or more GFCI (waterproof) electrical outlets per garage wall. It's a relatively small investment that will allow convenient use of any electrical tools or appliances.
Spruce up the floor – Finish your garage makeover by covering the floor with a shiny epoxy floor covering. Epoxy resists chips, oil, grease stains, beads water, and wipes clean like a kitchen counter.
Conclusion
Renovating your garage doesn't have to be a daunting or expensive task. With a bit of creativity and strategic planning, you can transform your garage into a functional and visually appealing space. Use these affordable and practical ideas to maximize storage, improve organization, and enhance the overall aesthetic of your garage. If you have room for investment, a garage makeover can add value and convenience to your home.
Smart Racks is your go-to solution to end garage clutter. We offer various storage solutions that maximize existing garage space without occupying the floor. Each garage is different, and our teams work closely with homeowners to design the perfect overhead rack systems. Our expertise is in optimizing small spaces and helping customers to transform their homes. By specializing in storage rack installations for over a decade, we have become industry experts, concentrating on our core values of focus, integrity, and problem-solving. We prioritize customer convenience and safety, assessing storage needs and creating customized plans for garage ceiling storage and rack systems. For more information about the products or services we offer, contact us via our website, or give us a call at 407-988-0563 .
Learn More & Get Started Today