Skip to Content
Overhead Garage Storage Racks in Orlando, FL
Smart Racks' Storage Solution for Your Garage
Smart Racks proudly offers customers in Orlando, FL overhead garage storage rack solutions for their home storage needs. These convenient storage racks are ideal for keeping your garage organized and opening floor space for other uses. Decluttering your garage with ceiling storage racks lets you stow away a wide array of items you may not often use that normally take up space in your coat closet or living room. Typically, we have four-foot by eight-foot racks available to bring your overhead garage storage ideas to life, but we understand no two garages are the same. Your garage might have cabinets lining the walls or dimensions outside conventional designs. In these cases, we can alter your overhead garage storage rack's length, width, and height to meet your unique space and provide all the benefits of ceiling-based storage and organization. Let us know the specifics of your garage space, and we will create a customized rack for your needs.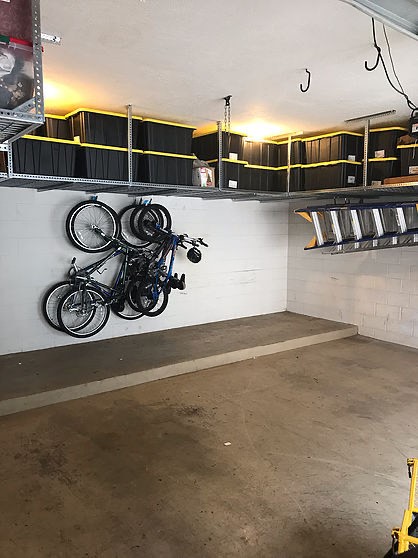 Benefits of Our Overhead Garage Storage Rack
Smart Rack's ceiling storage racks are a perfect solution when your garage space needs better organization to free up floor space and declutter your home. Before moving to Florida, we installed overhead garage storage racks in Arizona starting in 2008. In 2015, we moved our business to the Sunshine State and continued offering exceptional storage options. Our highly trained staff can install your new rack in a convenient area by location and depth. You can also get special discounts as an incentive to invest in multiple racks, so we recommend choosing a system with two, three, or more racks. Besides our company's notable experience and attractive discounts on custom storage solutions, our overhead garage storage racks offer various benefits, including the following:
Our storage racks cost you less than investing in a storage unit. Instead of paying rent every month for a space away from your home, you can keep your belongings safe year-round in your garage without taking up valuable floor space.
You have easy access to all your belongings. We build our storage racks to withstand hefty loads. These racks are built with 13-gauge steel and can hold up to 600 pounds. You can also get custom sizing to select the length, width, and height you need for your belongings.
An overhead rack keeps items safe from flooding. Florida is known for its rainfall, and hurricanes are a potential risk during the year. You can protect your valuable belongings by placing them in an overhead rack system so they stay dry.
Is an Overhead Garage System Safe?
You might wonder if installing an overhead garage storage rack system is safe for your home and family. This is a question most people ask themselves and our professional team whenever considering garage storage ideas for their organizational needs. Fortunately, overhead garage storage systems are as safe as other storage options you'll find available. Correct installation is crucial to ensuring your rack system is as safe as possible and has the least chance of a problem occurring. You also don't want to exceed your overhead rack system's weight limit. Many people get nervous about parking their cars under ceiling storage racks, but this shouldn't be a concern since we always correctly install our overhead garage storage racks.
What Should I Consider When Choosing a System?
Before investing in any overhead storage solution for your garage, Smart Racks advises you to review your garage space and your personal storage needs to ensure you select a system fitting your specific situation. Some essential things to consider when choosing an overhead garage storage rack include the following:
Size – It's important to get the right storage rack size since garages come in various shapes and sizes. Ultimately, you want a storage rack that you feel holds all your tools and supplies adequately.
Easier Installation – You must always consider the installation process and how your storage system can attach to your garage ceiling. While some systems are easy to install, others may be difficult. A rack package's instructions will reveal which yours is, and you can look at reviews from others who have invested in the same one you're considering. Having a professional carry out the installation process is often your best option.
Storage Capacity and Adjustable Height – Most people can benefit from a storage rack with adjustable height. You can get more from your rack and access it easier by lowering it. Storage capacity also differs between racks and depends on their size and material.
Sturdy and Stable Design – A rack's material and installation process will determine its sturdiness and stability. You typically want strong, heavy-gauge material to handle more weight, and strong mounting hardware is just as important.
Universal Compatibility with Different Ceiling Joist Spacing – While some ceiling joists are better than others when installing a rack to your ceiling, they may not be compatible with your rack system. Finding overhead storage racks that are compatible with many joists in the market can take the worry out of correct installation.
Accessories – Some racks don't include accessories as part of a package, so you should consider which accessories work with whichever rack system you choose, such as hooks to hang bikes. Ideally, you want a rack model that accepts more accessories.
Contact Us Today for Service in Orlando, FL
Don't waste floor space in your garage or home with items you can easily store in an overhead storage system. Smart Racks is ready to create a custom overhead garage storage rack system fitting your unique garage and storage needs. Contact us today to speak with a team member about our convenient garage storage solutions. We'll schedule an onsite installation at your home with our highly trained team of friendly, professional installers.
Learn More & Get Started Today