Skip to Content
Overhead Garage Storage Solutions in Orlando, FL
Rely on Us to Find the Perfect Garage Storage Solution
When you are looking for places to keep those old boxes of Christmas decorations or need somewhere to store your roof-top cargo carrier, call on Smart Racks. Our overhead garage storage units are beyond helpful when looking to maximize your current floor space. You can finally have that extra room in your garage for that freezer you've been wanting, or maybe you simply want to ensure a tidy space when parking your car. It's easy for most of us to begin filling the garage with tons of clutter. Free up that extra square footage by calling us to install our revolutionary overhead garage storage racks in your Orlando and Central Florida home.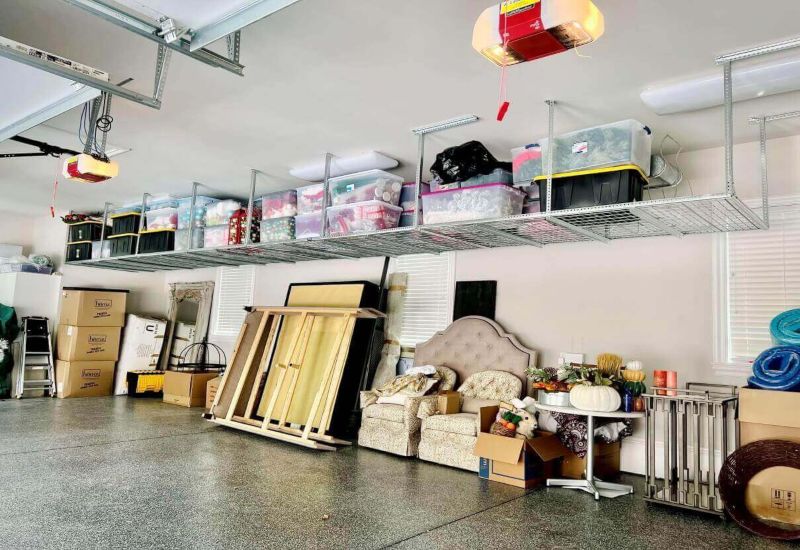 Why Choose Us
Smart Racks is an independently owned and operated storage company. When you reach out to schedule your installation for our services, you will never deal with the corporate office, and all installers are full team members. All our team members have been vetted and professionally trained to help you get the right garage storage solution to fit your needs. No matter the garage's style or design, our installers will find the right rack for you. We have helped plenty of homeowners find the right solution, and we look forward to doing the same for you and your home.
Professional Installation Services and More from Smart Racks
Overhead garage storage racks are a great way to free up space. You have a garage to park your car and keep the tools used for your yard. If you have too many boxes or other knick-knacks lying around, your square footage will seemingly shrink and prevent you from parking your car inside. Allow Smart Racks to help by providing storage solutions hanging from your ceiling to help clear your garage floor of clutter.
Smart Racks Declutters Your Space with Better Garage Storage
No matter the size of your garage, we have a perfectly sized storage rack for you. While we offer half-sized racks for smaller garages, we can pair them with our full-size options to create larger racks to accommodate your more significant storage needs. We make our storage racks with 13-gauge galvanized steel and are secured with supports and industrial-strength lock nuts for unrivaled dependability. And once they are full, you can still use the sides and bottom to hang items such as ladders, bikes, and lawn tools. If you're worried about the weight, know that each rack holds up to 600 pounds.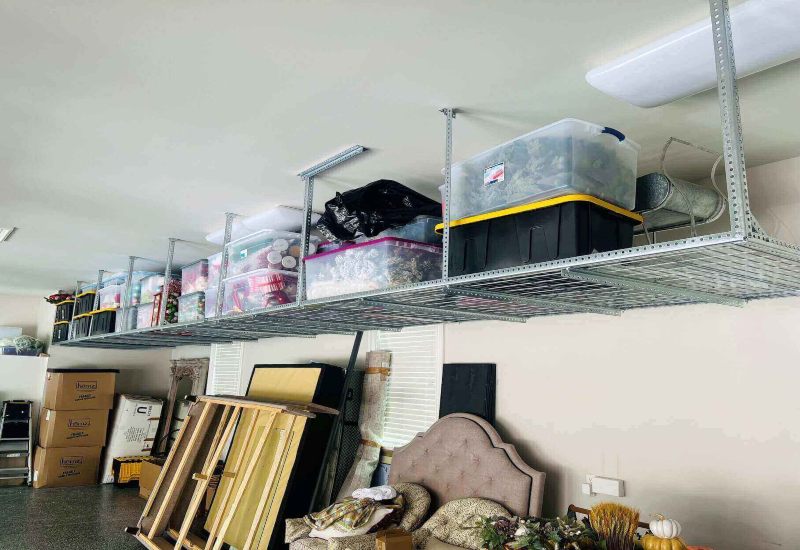 Benefits of Adding Smart Racks to Your Florida Garage
There are many benefits to utilizing Smart Racks' overhead garage storage system to declutter your garage. Below are some additional reasons you should give us a call when looking for storage alternatives:
More affordable than a storage unit: Smart Racks offers a reasonable storage option, as well as a smarter one. For the cost of only a few months at a storage unit, you could own your personal storage unit right within your home's garage.
Easy to access: Since all your items are conveniently stored at home, you won't have to drive to a separate location to get the things you need. When you have Smart Racks build a storage option above your garage door, you can keep your extra items readily accessible and out of the way.
Keep your items safe from flooding: By placing your items up above on a ceiling storage rack, you won't have to worry about flood damage. Even the best rentable storage facilities could get a leak in the door or walls and allow your items to suffer from water damage.
Why Choose Smart Racks for Help with Garage Storage?
We created our business with homeowners in Central Florida in mind by providing cost-effective overhead garage ceiling storage racks in the region. Your garage storage options are relatively slim, and most residents end up paying far too much for a monthly separate storage facility. Smart Racks saw an opportunity to help by offering a different garage storage solution. By creating custom sizes, we help our customers by manufacturing a storage space above their garage doors. We work with you until we put in the final bolt in your ceiling. Call now to get started.
Choosing the Right Storage Rack Installation Company
Smart Racks is an independently owned and operated storage rack installation company that has been accredited by the Better Business Bureau. So, you can always trust our team to provide you with the best customer service in the area. Our team is highly trained to ensure that you are completely satisfied with our work and our products. We offer a 100% satisfaction guarantee on all our ceiling overhead racks.
Learn More & Get Started Today