Skip to Content
Smart Racks' Garage Storage Solution
Garage Storage Solution Expert in Orlando, Central Florida
Rely on Smart Racks for All Your Garage Organization Needs
Smart Racks is Central, FL's leading garage storage solutions expert, providing garage organization products to help homeowners avoid clutter. Smart Racks offers garage storage racks that can save you space.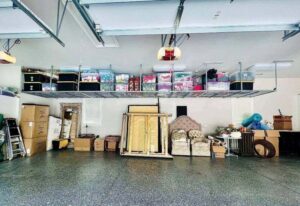 Price: 1,273.74 (including taxes and installation)
We Offer Affordable, Customizable Garage Storage Solutions
Smart Racks hang from the ceiling of your garage to maximize your floor space. We can accommodate significant or minimal storage requirements, offering 1-rack, 2-rack, or 3-rack setups, as can be seen in our gallery. The racks are sturdy enough to support heavy boxes and crates, and they can also be used to hang items such as bicycles and ladders. Each rack holds up to 600 pounds of personal belongings.
Our Smart Racks Come with a Lifetime Warranty
The Smart Racks we provide for homeowners throughout Central, FL, are made using thick, 13-gauge steel. All materials are made in the U.S.A. We take pride in offering durable racks that will last. We are so confident they will work for you that we offer a lifetime warranty. These galvanized 4' x 8' natural silver color racks feature six dropdowns supports – one in each corner and two in the middle. However, to suit your space, we can customize the length, width, and height.
The Smart Rack Team Can Expertly Install Your Racks
We offer expert installation services starting at only $371.69 for homeowners in and around Central, FL. We will ensure the integrity of your Smart Racks by carefully installing them using durable hardware and industrial-strength lock nuts for maximum support. With service, you can trust and unmatched sturdiness, do not settle for just one Smart Rack. Allow us to install multiple racks in your garage. Opting for two or three Smart Racks for garage organization qualifies you for savings on cost.
Contact Smart Racks for Garage Storage Solutions Today
If you have boxes and equipment strewn about your garage in a disorganized fashion, seek a garage storage solution from Smart Racks. We can visit your home to install one, two, or three or more Smart Racks in your garage's ceiling, thus freeing up floor space for a work station, second car, refrigerator/freezer or various other possibilities. Contact us today to learn more about our garage organization products.
Learn More & Get Started Today