Skip to Content
Overhead Garage Storage in Orlando
Smart Racks Provides Overhead Garage Storage Solutions
Smart Racks is proud to be Orlando's go-to overhead garage storage company with customizable solutions. For over five years, we have provided our customers with the storage racks, delivery services, and support they need to reorganize their garages. Optimizing and making the most out of small spaces is truly our bread and butter. We are passionate about helping our customers transform their homes, and we can't wait to help you do the same. If you're ready to put an end to that overwhelming pile of items collecting dust in your garage, we're the ones to call. Get in touch with our team today to discover how our storage solutions can work for you.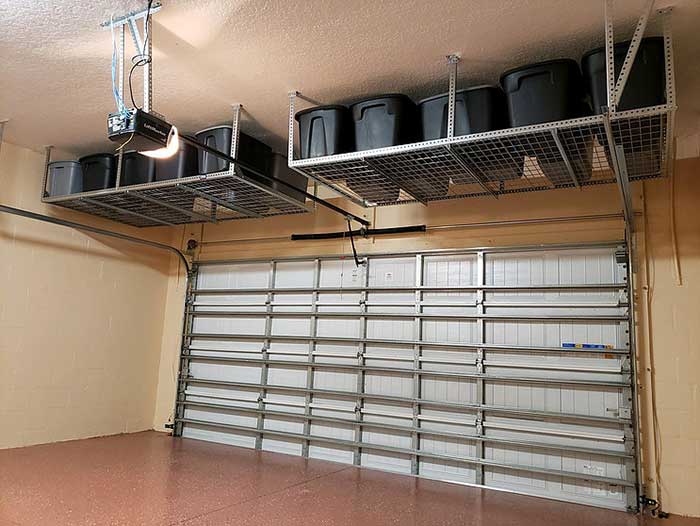 Garage Storage Solutions from a Passionate Team
We found our stride providing storage rack installation services in 2008. By focusing on our hyper-specific niche, we became experts in the industry. No one knows overhead garage storage solutions better than we do, and we take immense pride in passing this expertise on to our customers. Even after moving our company from Arizona to Florida in 2015, we stuck to our core values: focus, integrity, and problem-solving.
Discover Your Ideal Garage Storage Solution
The Smart Racks team understands that no two families have the same storage needs. No matter what your preferences and space requirements look like, we have the perfect solution for you. Our overhead garage storage systems are completely customizable to fit the width, length, and depth of the overhead space you have available. With one-rack, two-rack, and three-rack storage systems available, you can create a functional system that maximizes your storage and provides convenient access to your items.
Free Estimate for Our Garage Storage Installation Services
We are just as passionate about solving our customers' storage problems as we are about helping you create a functional storage space in your home. With our professional recommendations, installations, and delivery services, you'll feel at ease with every step of the process. Our highly trained and knowledgeable team members are excited to help you achieve your storage goals, starting with a free estimate on the garage storage solutions you need. An accurate free estimate gives you a clear vision of what your project will cost. We offer garage storage solutions at competitive prices to ensure home storage is affordable for all clients.
What Do We Do for Orlando, FL Clients?
Smart Racks has various storage solutions you can incorporate into your existing garage space without taking up valuable floor space. We consider every client's convenience essential when addressing their garage storage needs. Every project is an opportunity for us to provide customized solutions with garage ceiling storage and rack systems fitting your unique space. Our team has specialized expertise in assessing your storage needs and creating a plan to install racks that safely hold your possessions without affecting your garage door. We've described our services below to help you understand your options:
Overhead Garage Storage – Our overhead garage storage options let you securely store camping gear, boxes, and other items without installing shelves on the walls or making room on your garage floor. These storage solutions keep your possessions in easy reach and away from problems like flooding or intrusive wildlife.
Garage Ceiling Storage Racks – We can install ceiling racks in your existing garage space using your ceiling's natural strength to hold all types of items. You can get garage ceiling storage racks in various sizes and configurations because no two garages have the same dimensions and storage needs.
Garage Storage Ideas – One distinct benefit of working with Smart Racks is our extensive expertise in garage storage racks and how you can utilize them. Our garage storage ideas encompass a wide array of situations, whether you're an avid camper, gardener, or collector.
Garage Storage Solutions – We combine our overhead garage storage knowledge with some of the industry's best storage racks to create appealing solutions to your unique space, belongings, and budget.
Our Products Are Made in the USA
If you're concerned about product quality, you can relax knowing Smart Racks' products are made in the USA. Our racks use thick, high-grade, 13-gauge steel in their construction to ensure every overhead garage storage rack's integrity. Other products don't have the same durability or quality because they use thinner 14-gauge steel. We ensure durability with strong, galvanized, foot-foot by eight-foot natural silver color racks, each including six dropdown supports. You'll find one support in each corner and two in the middle. We include durable hardware and industrial-strength lock nuts to provide the best possible support. And unlike other products you find on the market, you can customize our rack's length, width, and height to match your garage's unique dimensions.
Contact Us Today to Start Your Storage Project
Smart Racks is ready to help you safely store your treasured possessions with customizable garage storage racks and innovative storage ideas. Let us work with your unique space and storage needs to create garage storage solutions tailored to you. Contact us today to learn more about our storage racks and schedule an installation at your property.
Learn More & Get Started Today