Skip to Content
Our Mission:
Smart Racks mission is to provide Floridians with the most durable and cost-effective garage storage solutions in Central Florida. We pride ourselves in helping homeowners find sensible garage storage solutions. It can be frustrating trying to find a place for your precious heirlooms, nostalgic photo albums, or even your packed holiday décor bins. With no basements, tiny cramped attics, and seasonal weather, there are few options for storing items out of harms' way. Smart Racks has found a way to deliver a solution regarding these issues. Our garage ceiling racks are the answer, so homeowners can now feel more at ease.
At Smart Racks, we strive to provide our customers with a quality product that they will love.  Our professional installers will come out to your home and consult with you regarding your storage needs. We offer FREE estimates to our new customers. Together, we can come up with a logical plan that will solve your storage frustrations. Upon installation, we provide our customers with even more peace of mind knowing that their garage ceiling storage solutions come with a lifetime warranty.
Starting at just $371.69 for one 4' x 8' rack, you can customize your 13-gauge galvanized steel rack to your preference to ensure maximum use potential. Become the envy of all the neighborhood garages.
At Smart Racks, you aren't dealing with a corporate office when you call us or an independent contractor when you see us at your home doing an install. You are dealing with a friend, brother, and son. You are talking to someone who values the work they do. We are family, and we treat our customers and one another with respect. Not only do we value our small business team, we also value the rapport we have amongst our customers. We hear you at the grocery say hi, we see familiar faces that greet us at home shows to rave about our racks, and we are thankful for the unwavering referrals you send… This is what keeps us going. The love our clients have for us enables us to strive to be the best for them!
Smart Racks' Core Values
Focus
We specialize in garage ceiling storage solutions. We have found our niche! We have found that when we focus our expertise on one product, we are able to find ways to make it better than the rest and more cost-effective. We know our metal manufacturers by name and speak to them weekly. We do not outsource any of our work to third parties. We inspect each piece of metal before installing it, and we only provide quality products that we would want in our own homes. We have been able to master our craft because we aren't distracted by other products or services.
Problem Solver
Smart Racks prefers to be proactive rather than reactive. We find solutions to your storage problems… That's our job! Trusses run opposite of what they should, cabinets or wall shelves already installed, lights in the way? No problem, we have experienced all of these issues before! We will work together and come up with a solution that is best for you. Rest assured that during your installation, our highly trained installers will make sure you understand the process and that we have provided you with a plan/product that you feel comfortable with.
Integrity
We do what is right. We know that sounds funny, but unfortunately, it isn't a common occurrence much anymore. Honesty and transparency are the basis of our communication. You will more than likely speak with the same person each time you call. Knowing you aren't dealing with a call center can be reassuring. We have strong ethical standards and treat everyone fairly. We run our business per up-to-date government guidelines and tax laws. We are recognized through the Central Florida BBB, and we have a variety of online social platform presences. We encourage our potential customers to read our reviews. We take the high road in each situation. We have to have integrity because that is who we are.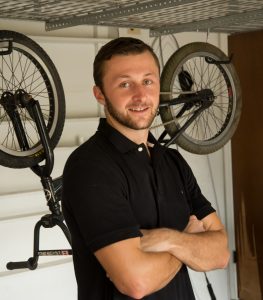 Learn More & Get Started Today