Skip to Content
Garage Ceiling Storage Racks FAQ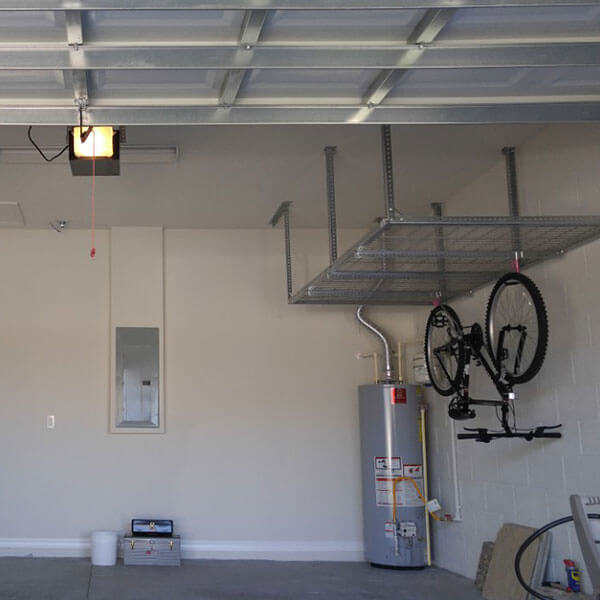 Frequently Asked Questions
Do you sell any additional products?
Yes, we also sell bike/ladder hooks for $5 each + tax.
Do you have a quantity discounts?
Yes, 3 or more racks are $299.00 each.
Are your racks powder coated?
Yes, the base of the rack is powder coated to allow items to slide with ease.
Are your support beams galvanized?
Yes, the 13 gauge steel beams are galvanized to protect against rust.
What type of hardware do you use?
We use 3″ heavy-duty lag screws to tie into the wooden trusses of the roof. We also use heavy-duty crimped lock nuts and grade C hex cap screws for added support and security.
Do you offer a warranty?
Yes, we have a lifetime warranty for our products. (See our warranty info page)
Can you do custom size racks for my garage?
Yes, we offer custom size racks (ranging from 4×4 to 4×6 to 3×8 to 2×12 – just to name a few)
What size do bins fit on the racks? And where can I get them?
The 18-gallon rubber-made bins (16″ H x 16″-18″ W x 24″ L) and are available at Target or Walmart.
How far down do the racks hang from the ceiling?
Smart Racks will custom cut the distance from the ceiling specific to your garage and/or your preferences. On average drops are from 16″ – 32″ to accommodate 1-2 standard rubber-made bins.
What if I have really tall ceilings?
There is an additional $20 per rack for dropdowns greater than 32″.
Do you do garage doors, cabinets, or flooring?
Sorry, but no, we do not install or perform any additional garage services.
What if I have items in the way in my garage?
We ask that items be moved prior to the installation. Please note, there is an additional $20-$50 charge (paid to the installer) to move personal belongings in the garage.
Do I have to clear everything out of the garage?
No, kindly clear the work area for the installers to bring in 2 ladders and the material. We standardly install along the perimeter, so moving things to the center of the garage is acceptable.
What Should I Expect On Installation Day?
On the day of the installation, we kindly ask that you clear the workspace for our installation team. It is not necessary to remove every item from your garage. However, our technicians will need clear floor space underneath where racks will hang, so our installation will be fast and clean.
What Is an Overhead Garage Storage Rack?
An overhead garage storage rack allows you to maximize your storage without sacrificing valuable garage floor space. Whether you have a multi-car or single-car garage, our storage racks can help you utilize space in your home you wouldn't otherwise be able to use. Our storage racks safely hang from your garage's ceiling trusses and give you more space to store your boxes, crates, and other belongings up off the floor.
What Are the Benefits of Over Head Garage Storage Racks?
Freeing Up Valuable Garage Floor Space
Keeping Dangerous Objective Out of Reach from Children
No Need to Rent a Storage Locker
Why Garage Ceiling Storage?
An overhead garage storage rack is an excellent way for you to create space in rooms that have otherwise been designated for storing your unused items. Your storage rack holds up to 600 pounds worth of items, so you can store your bins, boxes, bikes, and other equipment while reclaiming some of your garage floor space as well as interior closet space.
Why Should I Choose Smart Rack?
We are dedicated to ensuring you are entirely satisfied with your installation service. Our knowledgeable team will walk you through the entire process from start to completion and answer any questions you may have. We ensure that your garage ceiling racks are correctly installed on the trusses of your garage. Our team will ensure that your installation is done the first time correctly. From consultation through to completion, we will ensure that you are satisfied with our process. Our storage racks are backed by our 100% customer satisfaction guarantee and lifetime warranty, so you can feel confident in selecting us.
Thank you!
Learn More & Get Started Today